Free shipping in Canada on orders over $ 100 !
See details
Login
Log in if you have an account
Register
By creating an account with our store, you will be able to move through the checkout process faster, store multiple addresses, view and track your orders in your account, and more.
Create an account
Essential Accessories for Mountain Electric Bikes
28 Jun 2022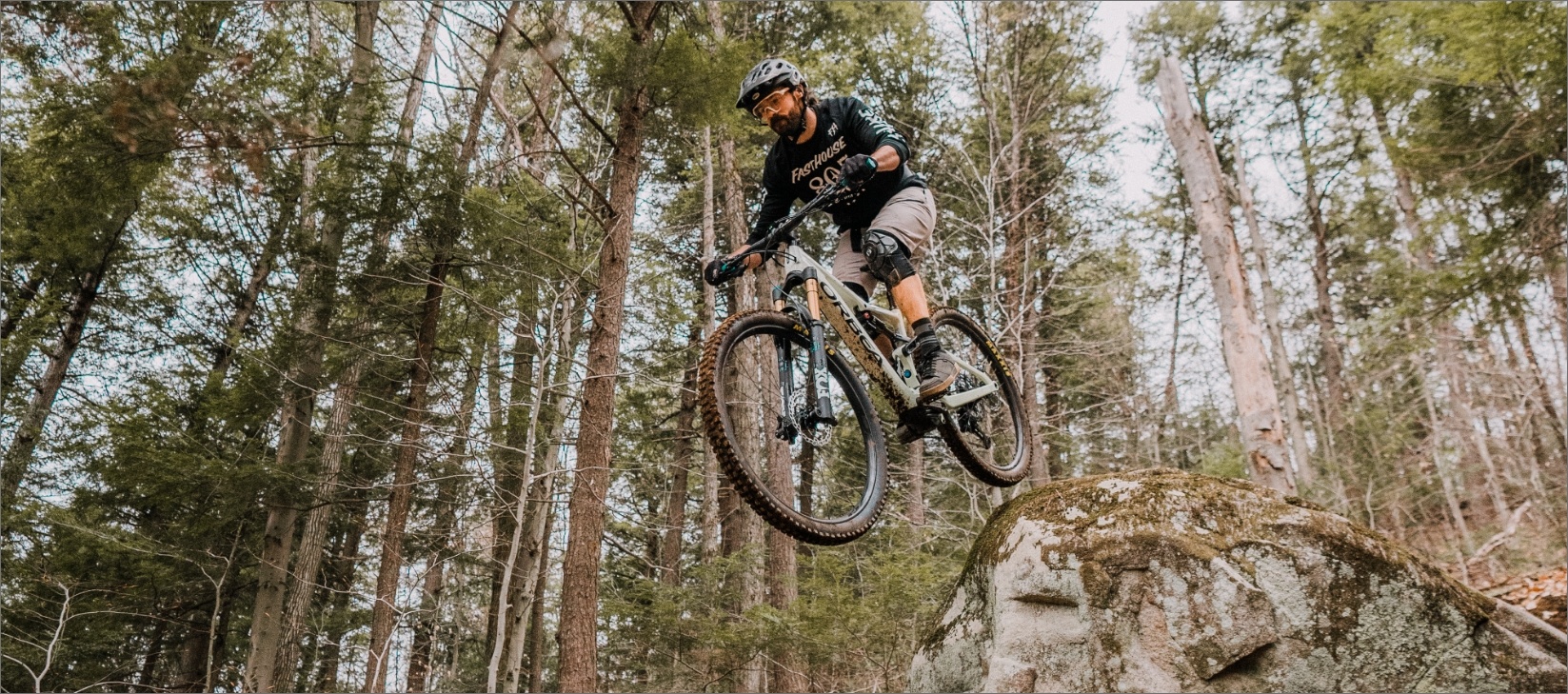 Mountain electric bikes are gaining popularity. Besides choosing an electric bike from a recognized brand, having good tires and wheels, there are other essential accessories to take full advantage of your outings. Here are 10 items that you should consider purchasing in order to have complete cycling equipment.
Good pedals
Electric bikes usually come without pedals. Why? Because each cyclist has his own preferences! Equipping yourself with good pedals will allow you to increase the quality of your outputs, because you will feel more stable, with better support and control.
There are different kinds of pedals:
The platform pedal (flat)
The platform pedal is the one that many beginners will choose at the start! Its main advantage is that it does not hold your foot if you have to drop it quickly on the ground. The flat pedal is usually equipped with metal spikes that allow the shoe to adhere well to the surface. In case of a fall, the platform pedal is more permissive since you do not have to make a movement to unhook your shoe from the pedal. However, you should have a good technique in order to push effectively during your climbs. Again, it is very simple to use, especially if you are at your first mountain bike experience. This type of pedals should be used with flat-soled mountain bike shoes.
The clip pedal
The clip pedal allows you to clip your mountain bike shoes on the pedal. Your pedal stroke will be much more efficient, as you will have the traction to pull it when pedaling. The movement is more fluid and your power is optimized.
When descending, the clip pedal offers excellent stability. However, since your shoes are clipped, you will need to be able to remove them quickly in order to avoid falling and to injure yourself. This type of pedals should be used with suitable mountain bike shoes for clip pedals.
The magnetic pedal
New product on the market, the magnetic pedal is an excellent compromise for the cyclist accustomed to riding clipped, but who would like to regain the flexibility of the platform pedal. This type of pedal is equipped with a magnetic system on the pedal as well as a metal plate to insert under your shoe sole. The advantage is that it offers good uphill traction to optimize the pedal kick, like an automatic, but the disengagement is much easier.
A pair of shoes
Being equipped with good mountain shoes allows for both more comfort and more rigidity, especially at the toes and ankles to protect them during a ground impact. If you are new to mountain biking and use platform pedals, any sports shoes will do. The more confidence you gain, the more you will equip yourself with specific accessories for mountain biking, such as a good pair of shoes. There are 2 different types of mountain bike shoes: Shoes with flat sole: They allow you to remove your feet from your pedals faster than shoes for pedals with clips. The soles of these shoes are usually made of sticky rubber to help keep your shoes on your pedals!
Clip-on pedal shoes: They give more control and pedaling power, as well as reducing the risk of losing your foot on your pedals.
A good helmet
Have you bought an electric bike recently? This is very good news! But before going for a ride, you must think of a helmet certified for your protection.
In Quebec, under the Highway Safety Code, the user of an electric bike must wear a helmet. In order to meet the impact tests, your helmet must be made of a rigid shell, be padded inside and be equipped with a strap that passes under the chin. Also ensure that the helmet has been approved by one of the following organizations: CSA, CPSC, ASTM, CEN or SNELL. If one of these words is indicated on your helmet, it means that it is certified and safe. There are now helmets specifically made for electric bike cyclists. Since the bike is heavier and the speed is often faster, these helmets respond to higher impact tests.
The most important features to verify when purchasing your mountain bike helmet are: ventilation, weight and protection. Mountain bike helmets usually have a visor on the front to protect you from the branches and the sun. The rear part is often lower to protect the back of the head in case of a fall.
There are 4 types of bike helmet:
Cross-country helmet: Many people confuse a road helmet and a cross-country helmet. Although they look alike, they have several differences. Road helmets are made to be lightweight and flexible, while cross-country helmets are designed to absorb high impacts.
Enduro helmet: This is the most popular helmet model for mountain bikes. The Enduro helmet has protective panels on the back and reinforced on the sides for optimal safety. The front visor protects you from branches and debris as well as the sun.
BMX headset: This headset is generally more used on pumptracks.
Full face helmet: If you are looking to protect your pretty face, this type of helmet offers complete coverage of the head and face.
The lifespan of a bicycle helmet is about 5 years because the materials inside it deteriorate over time and lose their effectiveness due to sun, heat, perspiration. The expiry date appears on the helmet and we strongly advise you to respect it for your safety. If your helmet has been hit, it will need to be replaced.
Body protection
Mountain biking is a risky sport. Even the best of you are not immune to a sudden fall. At E2-Sport, we have everything you need to protect yourself. Technology has evolved a lot in recent years and now the body accessories are much more comfortable and flexible. Among the protections available on the market, you will have the choice between: elbow protectors, gloves, neckbrace, knee protector, back protector, sunglasses, etc.
A hydration bag
When riding a mountain bike, it is essential to have enough water to avoid heat stroke and dehydration. Who wants to stop every ten minutes to open their bag and unscrew their bottle just to take a sip of water?
There are different hydration bags:
1. Mountain bike backpack
Avoid using your hiking or school backpack, which can be heavy and loose. Mountain bike backpacks are made to perfectly fit the shape of your body. A bag of between 9 and 14 liters is enough to carry your water, snacks and repair tool kit.
2. Hip bag
The main advantage of the hip bag is that you will not have a sweaty back! Some cyclists simply prefer it for its minimalist look. However, the majority of hip bags offer less storage space.
Repair accessories
To avoid an unfortunate situation, it is important to always carry tools with you to make repairs along the way, if necessary. Here are some important items to take with you: compact multi-purpose tools, spare tube, tire iron, CO2 cartridge, Allen wrenches and a wrench.
Choosing the right tires
In order to ensure that the tires are adapted to the types of outings you make, it is important to always prioritize the type of ground you like to ride. Special attention should be paid to the hardness of the crampon and the hardness of the wall.
Foam insertion
As the electric bike is a little heavier than a traditional bike, it is certain that the impact on the ground can be more violent. It is therefore recommended to insert foam inside the rim (Cushcore type) to avoid punctures. The advantage with a foam insert is that you can ride with a less inflated tire, resulting in better traction.
The foam insert sits inside a tire and is designed to absorb impacts, reduce vibration and increase lateral stability. These features result in more controlled and comfortable driving.
A protective film
Would you like to keep your bike in perfect condition? Avoid scratches? Do you want to protect the paint on your bike frame and preserve its resale value? The bike frame protector is an excellent solution that resists shocks, scratches and tears. These plastic films are available with a glossy or matte finish, they are designed to preserve the color of your bike, and are sold at a very affordable price. Now, our frame protection partner makes custom film for every bike which allows for a complete coverage of the frame. We offer the option to install it in store or for the more ambitious, a kit to install it yourself at home.
Several models are offered:
Protective film for diagonal and horizontal tube
Protective film for crank
Protective film for bike fork
Bottom bracket protective film
Bike racks and pads
In order to travel around Quebec and ride in the most beautiful places, you must be equipped with a bike rack. When choosing your electric bike rack, make sure it can support the weight of the bike. Among the bike racks for trailer attachment, there are models specially designed for electric bikes since an e-bike is much heavier to lift than a conventional bike.
If you have a van, it is possible to transport your e-bikes directly inside the platform. Simply install a tailgate cover to protect your bikes and your van. The flexible padding of the bike carrier adjusts to a wide range of tailgates and the large opening for the handle ensures visibility for the rearview camera.
Now that you know what you need to enjoy the most beautiful mountains, read about what to know before buying your future e-bike.