Free shipping in Canada on orders over $ 100 !
See details
Login
Log in if you have an account
Register
By creating an account with our store, you will be able to move through the checkout process faster, store multiple addresses, view and track your orders in your account, and more.
Create an account
Essential Accessories for Hybrid Electric Bikes
08 Jun 2022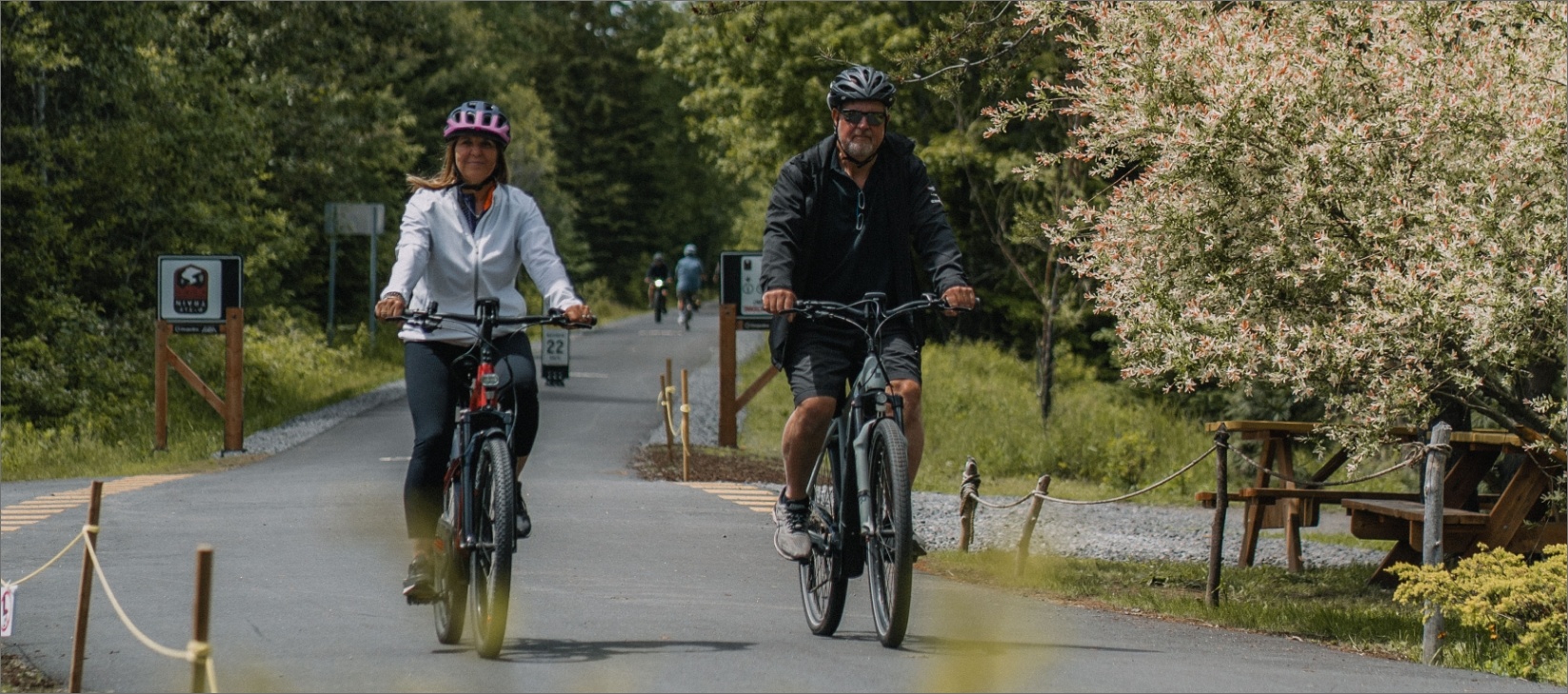 Hybrid electric bikes are gaining in popularity and that's why we thought it best to introduce you to the essential accessories to have on you to enjoy your outing 100%!
The helmet
Have you bought an electric bike recently? This is very good news! But before going for a ride, you must think of a helmet certified for your protection.
In Quebec, under the Highway Safety Code, the user of an electric bike must wear a helmet. In order to meet the impact tests, your helmet must be made of a rigid shell, be padded inside and be equipped with a strap that passes under the chin. Also ensure that the helmet has been approved by one of the following organizations: CSA, CPSC, ASTM, CEN or SNELL. If one of these words is indicated on your helmet, it means that it is certified and safe. There are now helmets specifically made for electric bike cyclists. Since the bike is heavier and the speed is often faster, these helmets respond to higher impact tests.
With the wide range of brands and models available at our store, it is now easy to find a street helmet that suits your needs; the right size, the right shape, safe and sure to please you! The lifespan of a bicycle helmet is about 4 to 5 years as the materials can decompose or deteriorate over time. Sun, heat and perspiration affect the quality of your helmet.
The expiry date appears on the helmet and we strongly advise you to respect it for your safety. If your helmet has been hit, it will need to be replaced.
The mirror
When you buy an electric bike, it usually does not have a rearview mirror. In our opinion, this accessory is a must-have for optimal safety and visibility on the road.
When driving in more crowded areas, such as bike paths, the use of mirrors is strongly recommended. With the growing number of cyclists, scooters, joggers and strollers on the bike paths, having a bike mirror can help you see what's going on behind you and avoid an accident.
Water bottle
One of the main advantages of electric bicycles is the possibility of making very long outings. It is therefore important to hydrate well. A water bottle is one of the most important things to have on you. We offer the traditional bottle or the insulated bottle, which keeps your liquid cold.
The bag
Do you want to carry some personal belongings on your bike rides? There are several types of bags, such as saddlebags, backpacks and frame bags, that attach directly to the bike. Also, when moving away from your bike, remember to bring your battery with you to avoid theft. Transport bags are specially designed to store and protect the battery, with a compartment for it.
There are different models of bike bags and saddlebags:
Are you going shopping?
If you are looking for a bike accessory to carry your shopping? The rear saddlebag is the item you need. Simple to fix, it is available in single or double models. The simple saddlebag can be easily removed and then attached back to the bike for shopping. The double model can be permanently hung on the bike.
Are you going on an adventure?
If you plan to travel with your electric bike, you will definitely need several storage bags. These will be used to carry all the necessary equipment for your long hike. We propose you choose more resistant models and especially weatherproof. Luggage bags and handlebar bags will be the best choice for your trip.
Going to your workplace?
There are a number of options for cycling home-to-work. What do you need to carry? Your laptop, your files, your lunch or just some personal belongings? Depending on your storage needs, you can opt for a luggage bag, a shoulder strap or a handlebar bag. Opt for the shoulder bag if you need to carry your laptop. Don't forget to choose a waterproof bag to protect your belongings from the weather.
Find a wide selection of bags & saddlebags for all types of bikes at E2-Sport. Brands such as Cubes (Acid series), Moustache, Ortlieb, Thule and Vaude suggest models that will allow you to meet your needs according to your usefulness.
Repair accessories
As the road is not always perfect and an unexpected event can happen quickly, it is important to have an extra inner tube, the levers to disassemble the tire from the rim, a pump and some tools to be ready for all circumstances. If you ever have a flat tire, you'll be happy to have the tools you need!
Bike rack
In order to travel across Quebec and ride in the most beautiful places, you must be equipped with a bike rack. There are bike racks specifically designed for electric bikes. These can support a heavier load capacity (an average of 55 to 60 pounds per bike). In addition, they are easy to adjust for open frame bike models. Note that this type of bracket is only used with a trailer hitch. Remember, the weight of your e-bike is heavier, so it may be a little harder for you to lift it in comparison to a conventional bike. A boarding ramp can make it easier to load your hybrid electric bike. Models such as the Thule Easyfold or the Yamika OnRamp include the boarding ramp. Otherwise, you will have to buy it separately.
A battery plug cover
To reduce weight during rack transport, it is important to remove the battery and properly protect the electrical components. A transport cover and a cover-connector will allow these elements to stay dry in case of bad weather.
A padlock
E-bikes have become a prime target for thieves. Lightweight, without handlebar locking system and without noise at the start unlike a motorcycle or scooter, the electric bike is particularly easy to steal. In over 90% of theft cases, the bike was not properly attached or simply not attached. It is therefore essential to be equipped with a good quality, reliable and resistant lock.
There are different models:
U-shaped padlock: We recommend the use of a high-end U-shaped padlock. This type of lock is resistant to sawing, bolt cutter, hooking and drilling. This is the minimum to effectively secure an electric bike.
Anti-theft chains: Made of hardened steel, this type of chain effectively resists brutal attacks such as sawing and bolt cutters. The anti-theft chains are available in different lengths and are easily wound around the frame.
Folding lock: This type of lock is among the most practical to use and carry. However, it is important to note that folding models offer a lower level of protection than chains and U-locks.
Anti-theft cables: FORGET! The cable lock is the easiest device to cut! Most cables can only withstand an attack for a few seconds!
There are now some models of locks specific to electric bikes, since they are wider to attach to the diagonal tube where the battery is located. In addition, some models of locks, with the help of a smart phone application, allow you to receive a notification via your cell in case of suspicious activities close to your bike. Remember that the best lock to date is definitely the owner of the electric bike. That is, you must always keep an eye on your mount!
Seat rod with springs
Several factors can make your electric bike ride uncomfortable (your position on the bike, saddle, tires too inflated, etc.). In addition, on an electric bike many cyclists tend to take longer rides, which require additional comfort. In order to avoid back pain, we propose the addition of a saddle rod with integrated suspension. This will allow you to improve your comfort to enjoy your rides longer!
Cleaning products
In order to maximize the life of your electric bike, it is important to maintain it regularly. As the electric motor emits additional force on all the mechanical parts (chain, cassette, derailleur, front gear, etc.), it must be maintained daily so that it is always well lubricated and thus avoid premature use.
Some of the maintenance can be performed by yourself. Here are some points to be done after each exit:
Oil the chain
Check the operation of the brakes
Check tire pressure
Check the exterior condition of the tires
Ensure that the wheels are property tighten, handlebar and stem tightening
Clean your electric bike.
The use of quality cleaning products is strongly recommended in order to preserve the quality of the components. To start, we recommend the following 5 products: Bike cleaner, lubricant, degreaser, sponge and toothed brush.
We also recommend that you make an appointment at our mechanical workshop, at least once a year, so that one of our technicians can do the complete verification and maintenance of your electric bike as well as the updating of the electronic software.